Panama City & Florida Panhandle Duck Hunting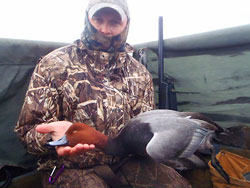 Who says you only go to Panama City Florida for Spring Break! Some of the best duck hunting on the Gulf Coast can be found in the pristine waters that surround Panama City, Florida. During the winter the bays and sounds host some of the largest flocks of diving ducks on the Gulf Coast.
We offer traditional diver duck hunting for redheads, bluebills, canvasbacks, and buffleheads. Our hunting guides will take you out in one of our custom duck boats or layout boats for a morning or afternoon of fast action diver duck shooting. The season for divers is November – January.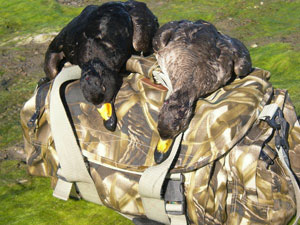 We will be hunting the St. Andrews Bay system which includes North Bay, West Bay, and East Bay. The guides will be using large decoy rigs just like it has been for done generations before. Our equipment is "state of the art" but the traditions remain the same.
Our hunting guides are USCG licensed Captains and insured. They are trained not only to "be on the ducks" but also to make sure your hunt is safe. They know the waters you are hunting. They know where the ducks will be and they know when it is NOT safe or when to get off of the "big water".
BOATS: The Flagship of our duck boat fleet is a 2014 DUCKWATER 18 OCEAN, Powered by a 90HP YAMAHA Outboard motor, Garmin GPS/Chart plotter, VHF radio, and all applicable USCG safety equipment. We also have 2 other custom 18 foot duck boats. We can accommodate parties of up to 10 hunters.
DECOYS: Capt. Todd is an award winning decoy carver, so you will be gunning over his hand made Bluebill, Redhead, Bufflehead and Canvasback decoys.
RATES: Please contact us via e-mail ([email protected]) or call 850-819-5829 for info on rates.
What's included:
Boats
Decoys
Blinds
Professional Guide
What to Bring for Duck Hunts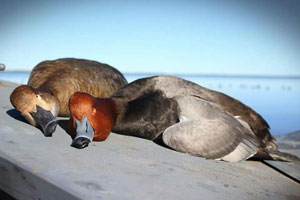 Florida weather is known to be unpredictable reputed to change every 15 minutes. Bring along warm clothes in drab browns and greens or your favorite camouflage. You will also need warm weather clothing for those days the temperature rises. Chest waders are a must (we recommend neoprene). You will need a Florida hunting license and a federal duck stamp as well. A reliable 20 or 12 gauge in 3 or 3½ in. chambers with modified chokes. Shotguns must be plugged to hold no more than 3 shells. All ammo must be non-toxic. We recommend 3 boxes of #2 or #3's per day of hunting. A good cleaning kit is needed for saltwater hunts.
Our Guarantee:
Professional Guides - Safe, Knowledgeable, & Entertaining
We Use the Best Equipment
We Scout, EVERY DAY
Our Goal:
Our goal is to help you experience the very best waterfowl hunting and fishing that the Gulf Coast has to offer. No matter if you are a seasoned veteran waterfowler looking for that one special bird to mount or the novice first time hunter. That means making you feel like you're hunting and fishing with an old friend rather than on a "guided trip" with a stranger. We take great pride in what we do. Your complete satisfaction is the driving force behind our commitment to providing the best guide service possible.
---
Fishing | Rates | Hunting | Cast & Blast | Decoys | Reports | Testimonials | Gallery | Home
Back Bay Adventures



Capt. Todd Jones
850-819-5829
[email protected]
Design & Hosting by CyberAngler