Hand Carved Duck Decoys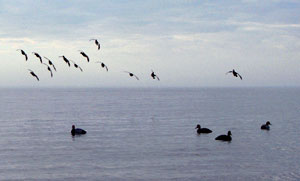 Around 1995, I became unsatisfied with plastic production decoys, I decided to start carving my own rig of decoys. After a lot of research I chose to use cork as my carving medium, because it floats on the water more naturally than any other material. My first carvings were a pair of Black ducks, and the first time I hunted over them I shot a drake Black duck.
With cork I can carve a rig of decoys that look animated by varying the head positions and attitudes of the body, this creates a rig that looks alive and more realistic. Cork decoys are heavier and ride the rough water more like a duck and reduces reflection by absorbing the light due to the natural texture. Cork decoys just look more like ducks! Another advantage cork has, if you accidentally shoot them they won't sink and pellet holes can easily be repaired.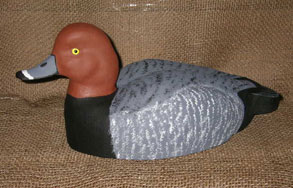 I carve traditional working decoys intended to be hunted over. These decoys a made to last generations, something you can hand down to your grandchildren.
More Decoy Information
The bodies are made of high density tan cork. The heads are white cedar with glass eyes. They are painted with flat acrylics for a no glare finish.
Cork is made from the bark of the cork oak. The bark is shredded and processed in one of two ways. Corkboard is made when the cork is put in a mold and subjected to high heat & pressure. This causes the natural resins in the bark to act as a binder and hold the shredded pieces together.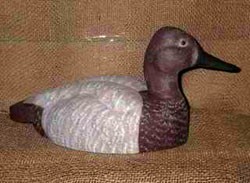 Tan cork is also put in a mold but instead of adding heat an artificial binder is added to make it stick together. This makes a denser more durable decoy.
I am able to carve any species of duck or goose, you can choose from standard (10% larger than life size) to super magnum (any size you choose). To place an order or for more info contact us at 850-819-5829 or [email protected].
---
Fishing | Rates | Hunting | Cast & Blast | Decoys | Reports | Testimonials | Gallery | Home
Back Bay Adventures



Capt. Todd Jones
850-819-5829
[email protected]
Design & Hosting by CyberAngler