Fishing Panama City & Florida's Panhandle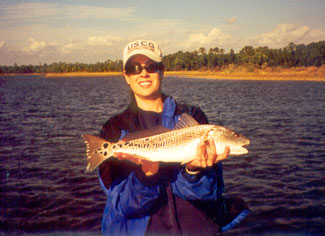 Come and fish with us on Panama City, Florida's pristine and crystal clear backwaters including bays, bayous, tidal flats, and creeks. Grass beds and oyster bars abound, and a wide variety of saltwater game fish prowl these magnificent environments. Our main focus will be primarily on seeking out speckled trout and redfish; the two most popular species that roam the gin clear shallows.
However, a variety of other gamesters such as Florida pompano, Spanish mackerel, shark, bluefish, ladyfish, tarpon and even cobia at times will supply anglers with light tackle action. We usually pole along the shallows in order to locate these gamesters as they feed on the shallow bait-filled flats. On these fish filled shallows, top-water baits such as Skitter walks, Top Dogs, Zara Spook, Capt. Mike's spoons, and Berkley Gulp jerk baits are deadly, and allow anglers the chance to experience adrenaline pumping surface explosions.
There are a variety of other tactics employed to catch these shallow water warriors such as using soft-plastic baits fished shallow under a clacking cork. This technique is deadly in these skinny waters. A Cajun Thunder clacking cork is an extremely simple technique that novice anglers and children alike will find both fun and effective. During the spring and summer months when the tides are favorable live bait fishing trips are available and offer the angler a great chance at catching those 6 plus pound trout and redfish. For those more advanced anglers Fly Fishing is another exciting technique used to catch these popular game fish. It is common to see redfish tailing in the shallow waters as he forages for food or a large trout smashing a school of nervous bait fish. This shallow water feeding action presents the fly fisherman with a great opportunity to catch one of these powerful fish on the fly.
The top-water lures, soft plastic jerk baits, gold spoons and clacking corks combined with the light weight Saint Croix Rods, Shimano Reels and Berkley braided lines makes long cast easy, and provide awesome visual fishing excitement. By the way, both Capt. Jones & Capt. Womble have appeared on the nationally televised "Engel's Outdoor Experience" and LivinIt Outdoors as well as several locally televised Fishing shows and are regularly featured in Florida Fishing Weekly magazine. Our angling knowledge and expertise will help those anglers wanting and willing to fish the waters in the Panama City, FL area catch more fish.
What to Bring for Fishing Trips
We recommend you bring comfortable non marring shoes, hat, polarized sunglasses, food and drinks, sunscreen and any other essential items you my need.
---
Fishing | Rates | Hunting | Cast & Blast | Decoys | Reports | Testimonials | Gallery | Home
Back Bay Adventures



Capt. Todd Jones
850-819-5829
[email protected]
Design & Hosting by CyberAngler