Panama City & Florida Panhandle Duck Hunting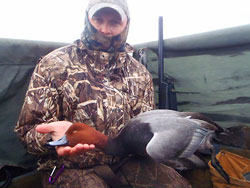 Who says you only go to Panama City Florida for Spring Break! Some of the best duck hunting on the Gulf Coast can be found in the pristine waters that surround Panama City, Florida. During the winter the bays and sounds host large flocks of diving ducks.
Some of the most abundant species are Redheads, Buffleheads, Scaup, and Canvasbacks. Some of the other species that you may encounter are Teal, Mottle ducks, Gadwal, Oldsquaw, Scoters, Snow geese and Ross geese.
At Back Bay Adventures we offer several types of hunting opportunities from one of our 18 ft Custom Duck Skiffs (up to 4 hunters), shore blinds, or flooded timber. We can accommodate groups of up to 8 hunters.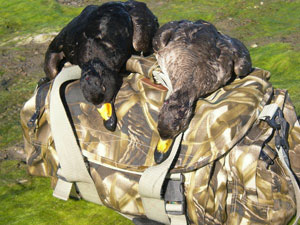 In September, we also offer guided hunts during Florida's special early Wood duck and Teal season, and for a very unique and exciting type of gunning, moorhens and rail are available in the early season also.
Capt. Todd is an award winning decoy carver, so you will be gunning over some of his hand carved decoys as well as over 150 Herters Bluebill, Redhead, and Canvasback decoys.
Capt. Todd has been featured in several regional as well as national magazines such as Florida Game and Fish magazine, Wildfowl, Retriever Journal and South Mississippi Outdoors.
What to Bring for Duck Hunts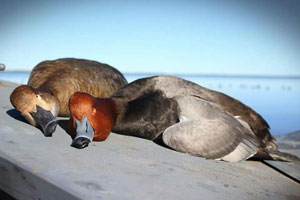 Florida weather is known to be unpredictable and reputed to change every 15 minutes. Bring along warm clothes in drab browns and greens or your favorite camouflage. You will also need warm weather clothing for those days the temperature rises. Chest waders are a must (we recommend neoprene).
You will need a Florida hunting license and a federal duck stamp as well.
A reliable 20 or 12 gauge in 3 or 3½ in. chambers with modified chokes. Shotguns must be plugged to hold no more than 3 shells. All ammo must be non-toxic. We recommend 3 boxes of #2 or #3's per day of hunting. A good cleaning kit is needed for saltwater hunts.
---
Fishing | Rates | Hunting | Cast & Blast | Decoys | Reports | Testimonials | Gallery | Home
Back Bay Adventures



Capt. Todd Jones
850-819-5829
capttodd@backbayadventures.com
Design & Hosting by CyberAngler